[vc_row][vc_column][vc_column_text]
Dr. Shekhar is renowned orthopaedic surgeon in Delhi, India. His articles and interviews has been published in various national and International news paper & Journals. He regularly writes on joint replacement surgeries to guide new orthopaedic surgeons and  for awareness of patients.
[/vc_column_text][vc_row_inner][vc_column_inner width="1/2″][vc_column_text]
For more efficient knee replacement
Click Here To Visit ePaper Hndustan Times
Delhi , 16 Jun 2019. Pages 40 – 41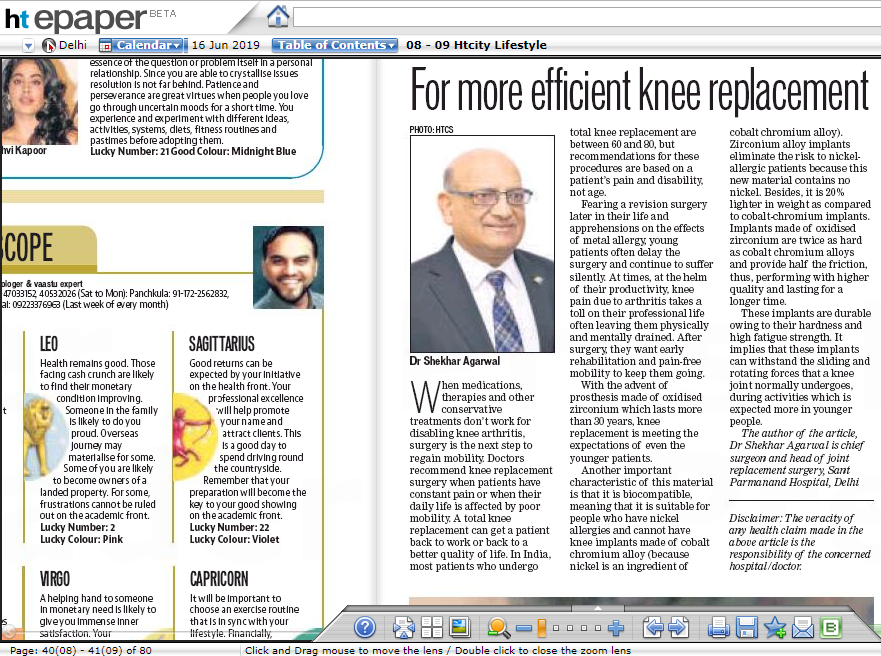 [/vc_column_text][/vc_column_inner][vc_column_inner width="1/2″][/vc_column_inner][/vc_row_inner][vc_row_inner][vc_column_inner][vc_column_text]
Times Healthcare Achievers Award – Best in Orthopaedics ( Delhi NCR) 2018 given
to DITO Delhi Institute of Trauma and Orthopaedics, Sant parmanand Hospital.
[/vc_column_text][/vc_column_inner][/vc_row_inner][vc_column_text]
[/vc_column_text][vc_column_text]
| | |
| --- | --- |
| Article of Dr. Shekhar Agarwal in woman's ERA Magzine on Jan-2014 | April-2014 artical |
| | | |
| --- | --- | --- |
| Oct-2014 Artical | July 2015 Article in Jet Airways | Jan-2015 Artical |
[/vc_column_text][/vc_column][/vc_row][vc_row][vc_column][vc_column_text]
[/vc_column_text][vc_column_text]
[/vc_column_text][/vc_column][/vc_row]