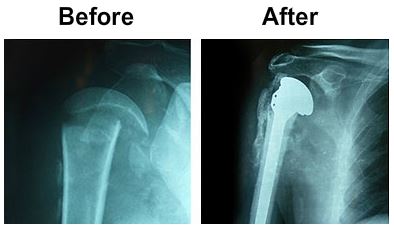 Dr. Shekhar Agarwal is most renowned  joint  replacement surgeons in the country.  He is Chief Surgeon and Head of Joint Replacement Surgery at Delhi Institute of Trauma and Orthopaedics and has more than 30 years of active clinical practice as a joint replacement surgeon in India. He also serves as faculty for knee and hip lectures across India and abroad.
Including Knee and Hip, Joints that are usually replaced are shoulder, elbow, wrist and ankle where these joints because of injury and arthritis with resulting pain and stiffness.
1. Shoulder replacement surgeries
With newer techniques and implants, shoulder replacement is now giving consistently good results in terms of pain relief and movement. Various options in shoulder replacement include
Partial Shoulder Replacement
Total Shoulder Replacement
Reverse Prosthesis
Resurfacing
Indications for shoulder replacement includes osteoarthritis of this joint and post traumatic arthritis. The decision for type of shoulder replacement will be based on the patients age, problem and his activity level; all of which will be explained by our shoulder replacement surgeon here at DITO.
2. Elbow replacement surgeries
3. Wrist replacement surgeries
4. Ankle replacement surgeries