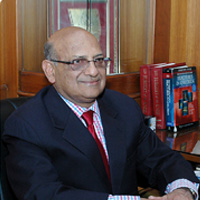 Dr. Shekhar Agarwal
M.B.B.S., M.S. ( Delhi ), M.Ch. ( Liverpool ), F.I.C.S.
Chief Surgeon, Delhi Institute of Trauma & Orthopedics
Executive Director, Sant Parmanand Hospital

Dr. Shekhar has worked for 35 years in Orthopaedics, of which 10 years have been spent in England; 2 years in Teaching Hospitals in Liverpool, and 1 year in a highly specialized hip surgery centre at Wrightington Hospital . Dr. Shekhar Agarwal is Chief Surgeon and Head of Joint Replacement Surgery at Delhi Institute of Trauma and Orthopaedics. He has been performing knee replacement and hip replacement surgery for the last 25 years in India. He was among the first few surgeons who pioneered joint replacement surgery in India. He is a Visiting Professor at the Prestigious Tamil Nadu Dr. MGR Medical University and currently the Vice President of Indian Society of Hip & Knee Surgeons (ISKHS) in which he was a Founding Member.
Dr. Shekhar is a recognized post-graduate teacher and lectures extensively in India and abroad on current issues of hip replacement and knee replacement surgery. He founded Delhi Institute of Trauma & Orthopaedics in 1997, and now more than 1,500 orthopedic surgeries of which more than half are joint replacement surgeries conducted under his personal care and supervision every year. He also maintains a bone bank to preserve fresh frozen allografts used for difficult surgeries where deficient bone needs to be replaced.
Dr. Shekhar is Executive Director of Sant Parmanand Hospital, a 150 bed super speciality hospital in New Delhi that has created a niche in Orthopedics through the Delhi Institute of Trauma & Orthopaedics. In addition to creating a highly specialized medical institute, he has also ensured that medical treatment is available to all who require it. His humanitarian efforts for Sant Parmanand have been true to its motto of the Healing Hand.
Dr. Shekhar Agarwal's Biodata [
Download
]