Artificial hip joints are broadly categorized by:
How the implants are fixed to bone
The type of material used for the ball and inner lining of the socket (Bearing Surface).
Fixation:
The socket and the stem are the only parts that are in direct contactwith the bone. The ball is mounted on the stem and fits perfectly intothe socket. The effectiveness of the surgery depends on how wellthe stem and the socket fit into the bone.Medical research and clinical studies have shown that pressfit oruncemented fixation gives better results as the bone can grow overthe implants. However, there are limitations and every total hipreplacement is unique.In certain cases, your surgeon will recommend a cemented total hipwhich means that both the socket and stem will be fixed to the boneusing bone cement. In other cases, the surgeon may recommend ahybrid total hip in which one implant is attached using bone cement,and the other pressfit or uncemented.The type implants differ based on whether fixation is Cemented,Uncemented or Hybrid.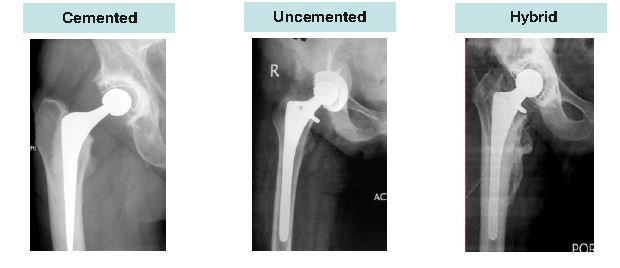 Materials used
(Bearing Surface):
The ball and the inner lining of the implant are in direct contactwhich creates some friction every time a person moves his hip. As aresult, the type of material used for the ball and the inner lining ofthe socket can affect the wear and tear to the artificial hip.Typically, in a total hip replacement, the surgeon will opt for a metalball and a special plastic inner liner. This is the most commonoption in elderly patients because the wear and tear of the innerlining is very little and the patient can walk comfortably with his hipfor at least 15 years.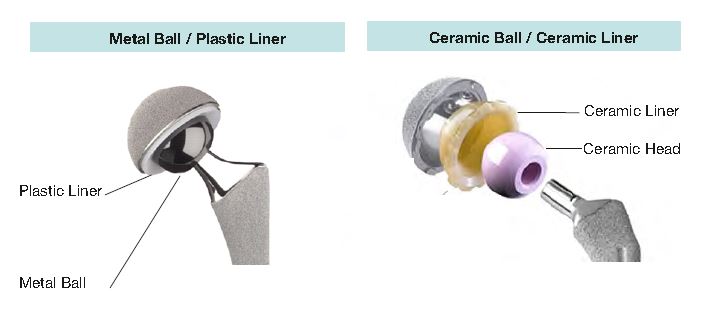 In younger patients who require total hip replacement, the surgeonmay opt for using a ceramic head and ceramic liner as this givesmore range of motion and results in almost negligible wear and tearallowing the younger patient to use his hip for a longer period oftime.The surgeon may choose any combination of the above such as aceramic ball and plastic liner, or a metal ball and ceramic linerdepending on your specific condition.